The state of play in the remote working debate
I've posted on this topic quite a lot, primarily in response to sensationalist headlines and company mandating of a return to the office.
In many cases it's a little baffling why organisations take this stance whilst organisations have made significant investment in premises placating leaders and shareholders seems to end up being the underlying reason behind such decisions.
In defence of some a headline can often be misleading. The most recent organisation to be in the news was Zoom, the BBC chose to lead their story with "Zoom orders workers back to the office". A more accurate, but less snappy, headline would be: "Zoom moves to a hybrid working approach as employees living within 50 miles of a Zoom office must now work in the office at least two days a week."
What has always surprised me is that organisations, particularly in the tech industry, are making these decisions despite mounting data. We are obviously still early in data collection related to the remote working shift but there are some absolutely some compelling arguments, particularly around attraction and retention and talent.
Before those metrics though an argument often levelled at the home working boom is a drop in productivity. Measuring this across different people and teams is challenging to say the least. I enjoyed the term "productivity paranoia" that I saw used in this Microsoft study. It's probably no surprise that management worry that employees working from home are less productive but there is little evidence that they need to be. One of the recommendations of that report was that
"Leaders need to pivot from worrying about whether their people are working enough to helping them focus on the work that's most important."
In a second part to this piece I'll look more at how we approach remote working at San Digital, build relationships and overcome these issues some leaders suffer from.
Earlier this year The What Do Tech Talent Want in 2023 report, by Europe's biggest technology talent hub hackajob, surveyed more than 1,000 UK technology workers. When asked the most important aspect our their roles, or prospective roles 61% said "remote working" way ahead of "tech stack" in 2nd place with 34%.
You may have seen recently that we're part of Manchester Digital, a great not-for-profit supporting growth of the tech and digital scene in Manchester. Amongst many other things they do a great yearly report called their Digital Skills Audit. I have attached a slide below with wider information but a whopping 85% of employees would be more likely to leave their current job if flexible working arrangements were no longer available.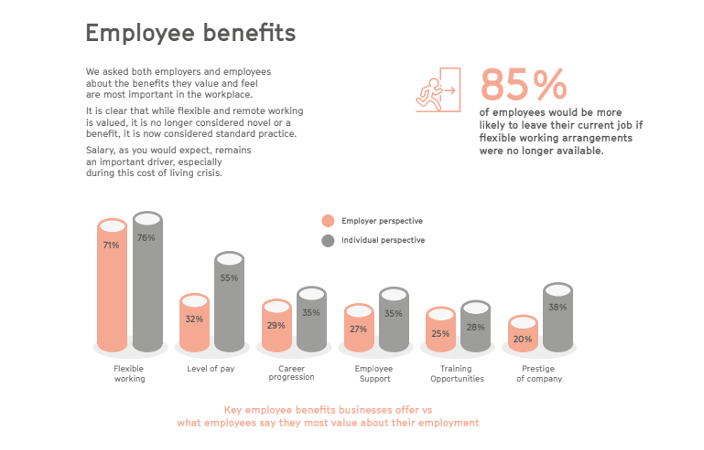 That neatly leads us to the fact flexibility is the key word. I am a believer, despite being a remote working organisation, that having the option of going into an office is the ideal scenario for an employee. I also can understand that organisations with entry level employees see that that demographic benefit from spending time alongside more experienced folks as well as look for a greater social side to work.
In many of these recent stories though companies have chosen to mandate a return to office time. Some people can think of nothing worse than working from home all the time and visa versa. At San Digital we've spoken to some great people who have decided that a fully remote environment is not for them and that is understandable. What surprises me are the articles which promote the idea that it was a passing fad. Like it or not its here to stay for some of us.
Get in touch
Let's do something great